Leftovers
Written by Ben
Last updated on 2004-02-24
---
Leftovers
Statistics
Date of Creation - February 22, 2004
Capacity - ~7L
Output - 2x
Shot Time - 141 seconds
Range - 42 feet
2/22/04 (SSCentral forums)
I now say that I'm finished enough with Leftovers to make a topic about it. What is Leftovers? A homemade PowerPak. I put a 5/64"(just a bit bigger than 1/16") nozzle on it, which makes the output about 1X, and it shot for 2 minutes 21 seconds, that's more than twice that of the PowerPak, and way way more than a Splashzooka. I know what you're thinking, you think I'm lying but I'm not. The range was a big improvement over from when it had a 7X-8X sized nozzle, that got 33 feet, this was at leat 5-10 feet more.
I can't believe how great of a weapon this is. I love it, this and my CPS 1000 are my main weapons now (at least until Threshold is done). I have a picture of it shooting, but it doesn't show how good it is, and I need to censor out my face, so I'll post a pic of it full. The tubing is like a sausage, and it extends at least 3 times it's original size.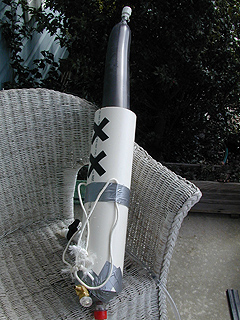 Yeah, it is sorta akward when it's that full, I should add a belt to the bottom to keep it a bit more stable, but it's not that bad. I've tried to collosus it, but the bike tubes just snapped, and then I tried something using bungie cords, but that didn't work well either.
So tell me what you think, and wait for the guide!
2/24/04 (Soaker Sagas)
Well, Leftovers I named because of what it's made out of, leftovers. I originally planned to call it Conan II, since I made a homemade before that was similar called Conan. Conan didn't work out too well, but I did learn that I can make good straps from rope by making it. Conan was air pressure, Leftovers is CPS and holds about twice as much water.
I won't say how it's made here, check out www.sscentral.net for that.
Leftovers started as an idea in my Pre-Calc class. Since we spend at least a half of the class going over homework, I was just staring off into space and thinking about the parts that I'm not going to use for making what I call now Threshold, I'm gonna change the name to something else soon. I listed the parts, and I thought "hey... I'm got enough to make something cool...", and then I started assembling it in my head. I originally planned it to be a homemade Splashzooka, but later I thought that it would be awkward to use because I only have a leftover ball valve as the trigger.
Building it was a breeze, my only problem was that I didn't have any more 4" endcaps. I was at a party and I thought a 2 litre would fit nicely in the hole, so I took an empty one and cut off the top to use as the endcap.
At first I used a barbed fitting as the nozzle, I wasn't impressed by the range or power. It had a 7X-8X nozzle, and 33 feet range with a 20 second shot time. Terrible. So, I took what I was going to use as a nozzle storage device for my other homemade, and I used it to make a system exactly like the one in that homemade. I gave a screw on endcap to my dad and he put a 5/64" hole in it, which is a bit bigger than 1/16". My dad doesn't want me to use power tools. The range now is 42 feet with a 2X nozzle, and with a CPS behind the scenes the sting factor is great. Shot time also has been increased to 2 minutes 21 seconds.
When testing the new nozzle, I noticed that a lot of the time something awesome would happen. The pressure of the shot was so high and the nozzle was drilled so cleanly that the stream was almost invisible, I could only see the reflection. Most of the time it's not like that, but it's neat when it is. Since the pressure of each shot is rather high, I tested it against dirt on various things, mostly cars, it washed the dirt off in practically no time.
Then I started walking around and shooting things. About that time a school bus came buy, mine passed an hour or so ago. The kids that walked by stared at it, I think they wanted it.
Leftovers hasn't been in any battles yet, but be sure that if it is it'll rain doom upon anyone who goes against it.
Materials
3/8" Vinyl Tubing (5 feet)
3/8' Barbed Ball Valve
3/8" Nylon Barbed Tee
Tubing Clamps x6
Latex Rubber Tubing (1 foot)
1/2" PVC Female Threaded Ball Valve
3/8" x 1/2" Nylon Hose Barb
1/2" Female Threaded End Cap
1/2" Schedule 80 PVC Pipe Nipple
Garden Hose Attachment
Teflon Tape
4" Drainage PVC (3 feet)
4" Drainage End Cap
Construction
Cut 3 inch, 9 inch, and 4 foot sections of vinyl tubing.
Solvent weld 4" end cap to 4" drainage pipe.
Drill 5/8" hole in the side and bottom of the pipe.
Arrange and attach parts as shown below while installing them into the pipe. Remember to use teflon tape on all threads and tubing clamps on all barbs.

Attach garden hole attachment to side ball valve.
Attach pipe nipple to firing valve. Use telfon tape.
Drill a 5/16" hole in the remaining 1/2" end cap. Attach as a nozzle to the firing valve assembly.
Filling Instructions
Open filling ball valve.
Attach hose attachment to hose.
When full, close valve and detach.
Photos
Finished gun
Gun shooting
Gun shooting again
Links
Super Soaker Central Forums: Leftovers!
Soaker Sagas: Leftovers
---